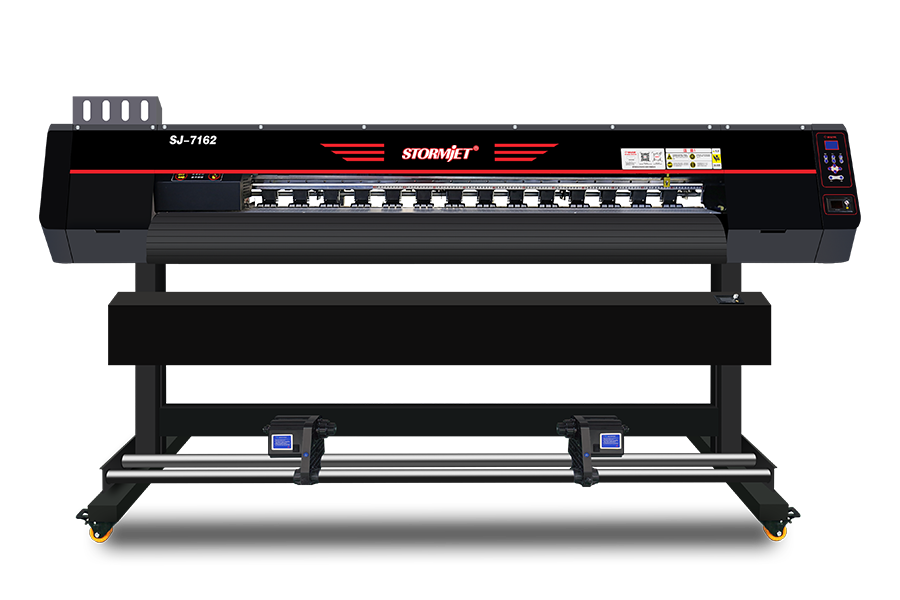 New SJ-7160S/SJ-7162TS
Mode:
Printhead Epson I3200-E1/A1
Head Quantity 1/2
Colors CMYK
Printing Materials Indoor Advertising Material, Transfer Paper, PP, Vinyl,Flex Banner, Canvas Banner, etc.
RIP software Maintop,FlexiPRINT,ONYX,etc.
Operating system Win7 64bit, Win10 64bit
We're here to help:Easy ways to get the answers you need.
Describe
Application
Parameter
Inquiry
* Heating in the front, middle and rear makes the material heated more evenly, increases the ink absorption, and the printing effect is more vivid.
* Adopt the sub-tank ink supply system to ensure the stability of long-term output ink supply.
* Variable voltage, the control software can automatically change the printhead voltage according to diferent temperatures to improve the problems of ink missing.
* Intelligent feathering printing, the original two-dimensional intelligent feathering function, can effectively eliminate the BANDING in printing, and the printing quality is highly improved.
* Inteligent design, compatible with printing software such as Maintop, FlexiPRINT, ONYX, etc, is more convenient to use.
* Equipped with a Chinese and English operation interface, both physical buttons and computer can control the machine, which is convenient for operation.
* Continuous printing after disconnection, the connection is disconnected due to environmental interference during printing, the control software can automatically detect, reconnect and splice the last disconnected part, and continue printing to avoid waste.


SJ-7160S/SJ-7162TS
Printhead
Type: Epson I3200-E1
Number of Nozzles: 3200(1PC)
Resolution: 3200DPI
Head Clean: Auto cleaning, flash and Moisturizing
Type: Epson I3200-A1
Number of Nozzles: 3200(1PC)
Resolution: 3200DPI
Head Clean: Auto cleaning, flash and Moisturizing
Quantity
1
2
1
2
Print Speed
*Tested on linear printing without feather function
2pass
30㎡/h
80㎡/h
2pass
30㎡/h
80㎡/h
3pass
25㎡/h
55㎡/h
4pass
25㎡/h
55㎡/h
4pass
20㎡/h
40㎡/h
6pass
20㎡/h
40㎡/h
6pass
15㎡/h
30㎡/h
8pass
15㎡/h
30㎡/h
Data Transmission Port
Giga-bit Ethernet Port
Print Width
1600mm
Ink Type
Type: Water-based ink(Dye or Pigment), Eco Solvent Ink
Color:CMYK
Print Media
Indoor Advertising Material, Transfer Paper, PP Vinyl,Flex Banner,Canvas Banner, etc.
Rip Software
Maintop,FlexiPRINT,ONYX,etc.
Image Format
JPG, TIFF, BMP, PDF, etc.
Computer System
Win7,Win10
Transmit Port
Network Port
Computer Cofigiration
Hard Disk: 500G or more, GPU: ATI Mobility
Radeon, Memory: 4G or above
CPU: Intel 4 I5 processor or above
Optional Device
Heat System: Extra Dryer Device
Working Environment
Temp.:15℃-30℃, Humidity: 35℃-65℃
Power Supply
50/60HZ, 220V, 5A
Dimensions
2566x662x1302mm
Machine Weight
240kg
Inquiry* Describe Your Buying Requirements in Detail