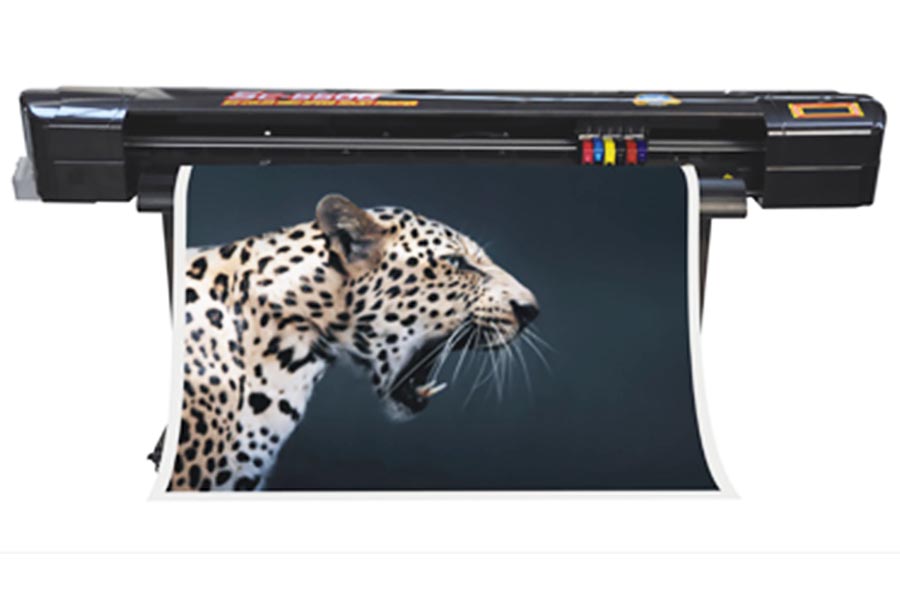 SC-5500 (Stop)
Mode:
Printhead Technology Thermal foaming print
Ink Type Water-based ink
Colors Double Four Color
Number of Nozzles (180 Nozzles×8 Lines) 1/2 Head as optional
Printing Materials Flex Banner,Vinyl,PVC,Backlit,Canvas,Flag
RIP software Maintop5.3/Photoprint10.5/Onyx
Operating system WindowXP,Win7/8
We're here to help:Easy ways to get the answers you need.
Describe
Application
Parameter
Inquiry
Functions and features

1.Adopting thermal inkjet microburst technology, which makes high pictures quality.
2.The main body is made of aluminum alloy, more attractive and stronger, walking media axis is made of bearing steel-walking media more accurately.
3.Blue LCD in low-radiation, key-press with perfect design, which makes it very convenient to work at night, and easier to operate.
4.Automatic media feeding and take-up system and automatic media cutter, make it convenient in application.
5.Upgrated mainboard with higher quality chips makes higher image quality, USB and paralleled printing ports give you more convenience.


Print Technology
On-demand thermal foam
inkjet MicroBurst
technology
Drivers
Winxp
Ink delivery
system
Continuous ink system
with 500ml refilable
reservoirs
Output
Maintop
Max printing size
152cm
Interfaces
100 base T Ethernet
option
Colors
CMYK
Processor
Power PC
Applied ink
Skycolor series dye-based
and pigment-based ink
Buffer
32mb standard
Applied edia
Indoor priting media
are compatible
Power Supply
Universal 90 to 264 VAV,47 to 63HZ
Media handing
Standard feeding&take-up
system, dryer
Power
consumption
35Widle, 145W typical
Print resolution
600*600dpi, 300*300dpi
Noise
Standby<60 DBA,
Operational:<72 DBA
File resolution
Accepts 600*600 or
300*300dpi files
Operation
environment
Temp:15℃to 30℃
Humidity: 5%to80%RH,
non-condendsing
Storage
Temp:-21℃to 60℃
Humidity: 5%to80%RH,
non-condendsing
Authentication
CE,ISO9001:2008
Language
English, French, Spaish,
Italian
Weight
89kg
Dimension
255CM*71CM*12CM
Inquiry* Describe Your Buying Requirements in Detail