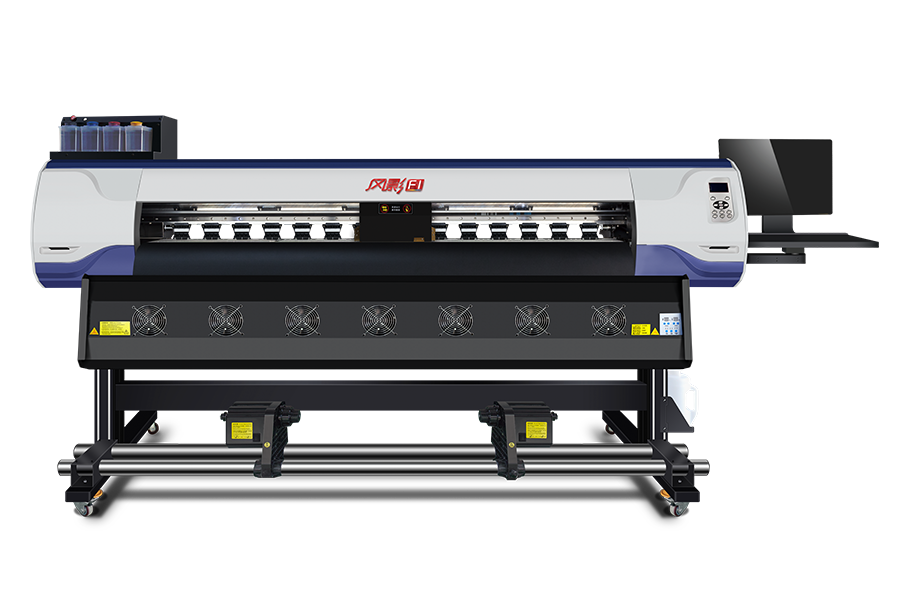 F1
Mode:
Printhead Epson I3200-E1/A1
Head Quantity 4
Ink Type Eco solvent ink, water-based ink, sublimation ink, etc
Taking up system Tension system
RIP software Photoprint, Onyx
Warranty 15 months
Application PP, Vinyl, Banner, Back-lit, Mesh, Canvas, etc.
We're here to help:Easy ways to get the answers you need.
Describe
Application
Parameter
Inquiry

Feature
1. Adjustable carriage frame, applicable for different thickness of media. Max printing height is 5mm.
2. Multi-row independent pinch rollers,which can be lifted seperately, ensure the media moving without wrinkle.
3. Imported Japanese THK linear guide rail makes carriage movement smooth and low noise.
4. Intelligent infrared heating & blowing external dryer accelebrates media drying speed, meanwhile heating and printing
can be synchronous to reduce the energy waste.
5. Head maintenance can be done from printer directly without connecting computer.
6. Support calibration settings export and import, more convinient on operation and service.

Detail
Maintenance Station:
Patented designed maintenance capping station .It's lifted up and down via column driven by motor in the middle,which greatly maintain the balance
of capping comparing the traditional gear dive.
Drying System:
Three ways heating system , front ,middle,back individual,improve the printing quality.
Feeding & Take-up System:
Motor Feeding & Take-up unit is standard equipped.
Pinch Roller:
Special designed pinch roller,each one can be lifted seperately to eliminate the wrinkle caused by media.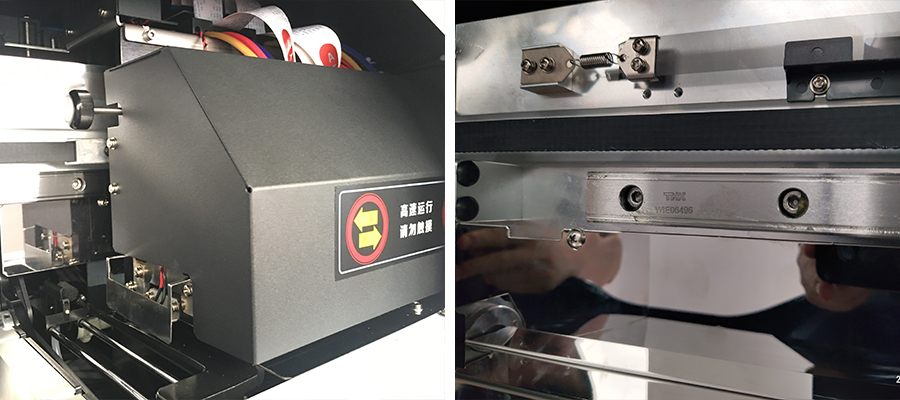 Carriage:
Adjustable carriage frame,applicate for different thickness of media.Max printing height is 5mm.
Guide Rail:
Using Janpan THK mute linear guide rail,the movement is more stable and the life is longer.
PP , Vinyl , Banner , Back-lit , Mesh , Canvas , All eco solvent ink materails


F1-4

Printhead

Type: Epson I3200-E1
Resolution: 3200DPI
Head Clean: Auto cleaning, flash and Moisturizing

Type: Epson I3200-A1
Resolution: 3200DPI
Head Clean: Auto cleaning, flash and Moisturizing

Quantity

4

Print Speed
*Tested on linear printing without feather function

2pass

139㎡/h

2pass

139㎡/h

3pass

105㎡/h

3pass

105㎡/h

4pass

82㎡/h

4pass

82㎡/h

6pass

56㎡/h

6pass

56㎡/h

Print Width

1800mm

Ink Type

Type: Water-based ink(Dye or Pigment),
Eco Solvent Ink, Sublimation Ink
Color:CMYK

Type: Water-based ink(Dye or Pigment), Sublimation Ink
Color:CMYK

Print Media

PP, PVC, Vinyl, Flex Banner, Backlit, Canvas, etc.

Indoor advertising material, Transfer Paper

Rip Software

Maintop6.0, Photoprint19, Onyx 19

Image Format

JPG, TIFF, BMP, PDF, etc.

Computer System

Win7,Win8,Win10

Transmit Port

Network Port

Computer Cofigiration

Hard Disk: 500G or more, GPU: ATI Mobility
Radeon, Memory: 4G or above
CPU: Intel 4 I5 processor or above

Optional Device

Intelligent Dryer, Auto Feeding and Take-up System, Anti Collosion System

Working Environment

Temp.:15℃-30℃, Humidity: 35℃-65℃

Power Supply

50/60HZ, 220V, 10A

Package Machine Size

3130*940*1080m

Machine Weight

300kg
Inquiry* Describe Your Buying Requirements in Detail