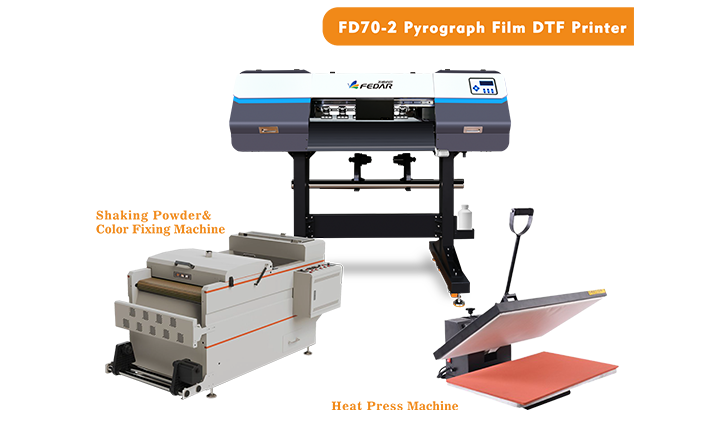 FD70-2 DTF Printer
Mode:
Printhead 2pcs Epson I3200-A1 / 4pcs I3200-A1
Max. Print Width 65cm
Ink Type Pigment Ink
Colors CMYK+W
Printing Materials PET Film
Application T shirt cotton material
Warranty 1 year
We're here to help:Easy ways to get the answers you need.
Describe
Application
Parameter
Inquiry

New Technology Cotton Directly Flim Transfer Paper Printing Machine With Pigment Ink
1. Adopt EPS3200 printhead,4 pass printing speed 13sqm/h.
2. Complete production solution,low-cost invest,big profits
3. High efficiency,High cost performance
4. Easy to operate,max support 9 gray scale
5. Wide applications,design for textile printing
6. Environment friendly and energy conservation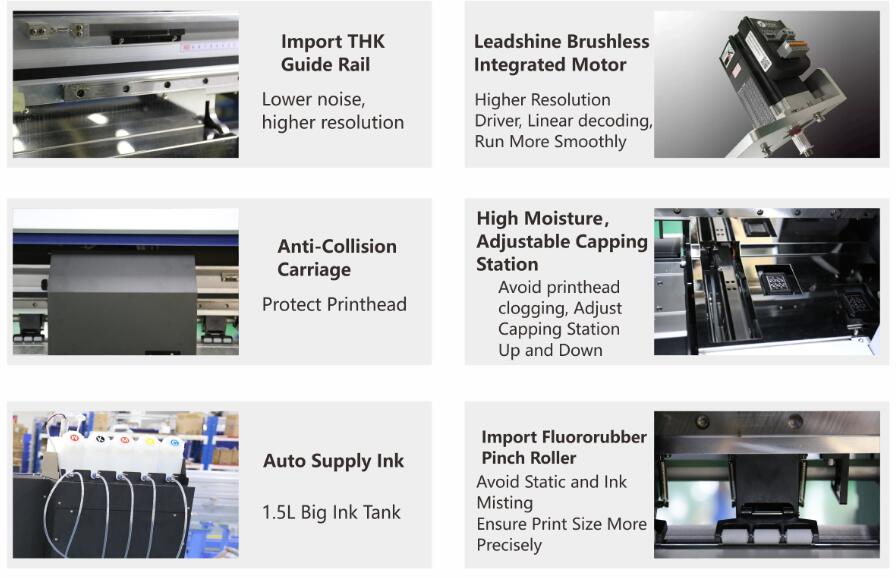 1. Specially Designed Car
The position of the print head can be adjusted according to different printing medias, and anti-collision devices at both ends.
2. Advanced Capping Station
Equipped with advanced intelligent auto printhead cleaning and moisturizing device,which can pump ink well and keep the
ink flow fluently.
3. Fluororubber Pressure Roller
US fluororubber pressure roller prevents static electricity.The unique lifting device can respond to the phenomenon of
partial paper bulging during the printing process.
4. High Precision Platform
The printing platform is controlled within ±7.5 wires and the surface hard oxidation treatment, no deformation for a long time.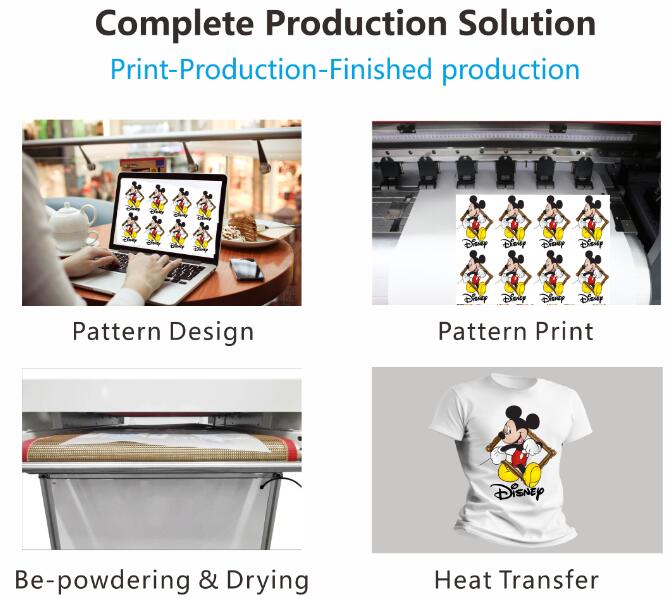 Widely Application in T shirt or other textile materials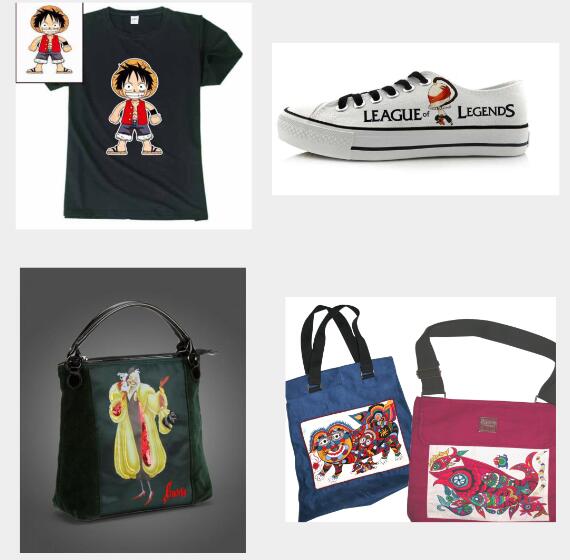 Model
FD70-2
FD70-4
Printhead
2pcs Epson I3200-A1
Resolution: 3200DPI
Head Cleaning: Auto cleaning, auto flashing and moisturize
4pcs Epson I3200-A1
Resolution: 3200DPI
Head Cleaning: Auto cleaning, auto flashing and moisturize
Print Width
600mm
Print Color
CMYK+W
Speed
*Tested on linear printing without feather function
4pass 12m²/h
720*1200
4pass 28m²/h
720*1200
6pass 10m²/h
360*3600
6pass 20m²/h
360*3600
8pass 14m²/h
720*2400
Ink Type
Pigmemt ink
Media
PET Film
Media Feeding
Normal Feeding System
Transmit Port
Ethrnet
RIP Software
Printfactory, Maintop, Photoprint, Onyx
Color Management
ICC Profile
Ink Supply
Cycle White Ink Supply System
Work Environment
Temp.: 11℃-30℃, Humidity: 35℃-65℃
PC Configuration
Win 7, Win8, Win10
Hard Disk: NTFS, HARD Disk:WG500G GPU: ATI Discrete GPU,
CPU: Inte I7, Gigabit LAN, Memory: More than 8G DD4R
Power
AC220V, 50HZ/60HZ
Printer Size
1630*829*1350mm
1718*656*1400mm
Weight
142KG
215KG
Inquiry* Describe Your Buying Requirements in Detail